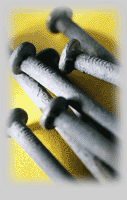 Stud Mountings:

Figure 1.
Application of low cost stud. Allow to setup 24 hours before using for stud mounted readings.

Figure 2.
Vibration stud used to make the axial measurements. Call to order or request information on the makeup of this vibration stud. Remove the bolt at the 5:30 position on the bearing cover and replace and leave in this position.

Figure 3.
Low cost vibration stud that can be epoxyied to the surface of your chiller. Prepair surface by using a grinder (Dremel) to clean off the paint and then apply the stud with liberal amount of epoxy type glue. On surfaces that tend to condense I recommend applying antisieze to threads. Initial readings may require use of magnetic mounting, because epoxy requires 24 hours to setup properly.
CVHE/F Chiller Motor Outboard measurement Locations:

Figure 4.
Motor outboard horizontal measurement location. This reading can be collected on motor outboard flange or near the bearing cover. Both are acceptable measurement locations. Magnetic mounting is acceptable.

Figure 5.
Axial Location on Motor Outboard End. Use Stud mounting Location or install a stud for this measurement. Use an accelerometer that has a stud adapter and tighten securely prior to collecting this reading.

Figure 6.
Motor outboard vertical measurement. Can be collected at 12:00 or 6:00 position. Magnetic mounting is acceptable at this measurement location.

VB 2018 Templates available for HVAC Equipment by mid to end of January 2018. Manual inputs and envelope alarms will be available with these new templates.
Chillers: Trane, Carrier, York, McQuay (Centrifugal, Screw, and reciprocating)
Fans: Belt drive, Direct Drive
Pumps: Horizontal, Vertical
Cooling Towers: Gearbox, Belt driven, Direct Drive
Sound Testing:
Floor Vibration Testing:
Impact Testing:
Coast Down or Sweep Testing:
Special Requests: Please use the request form to request template. They can be emailed to you for either Ascent or Master Trend Software.